Dons Stay on Top and Win Their Third in a Row
Image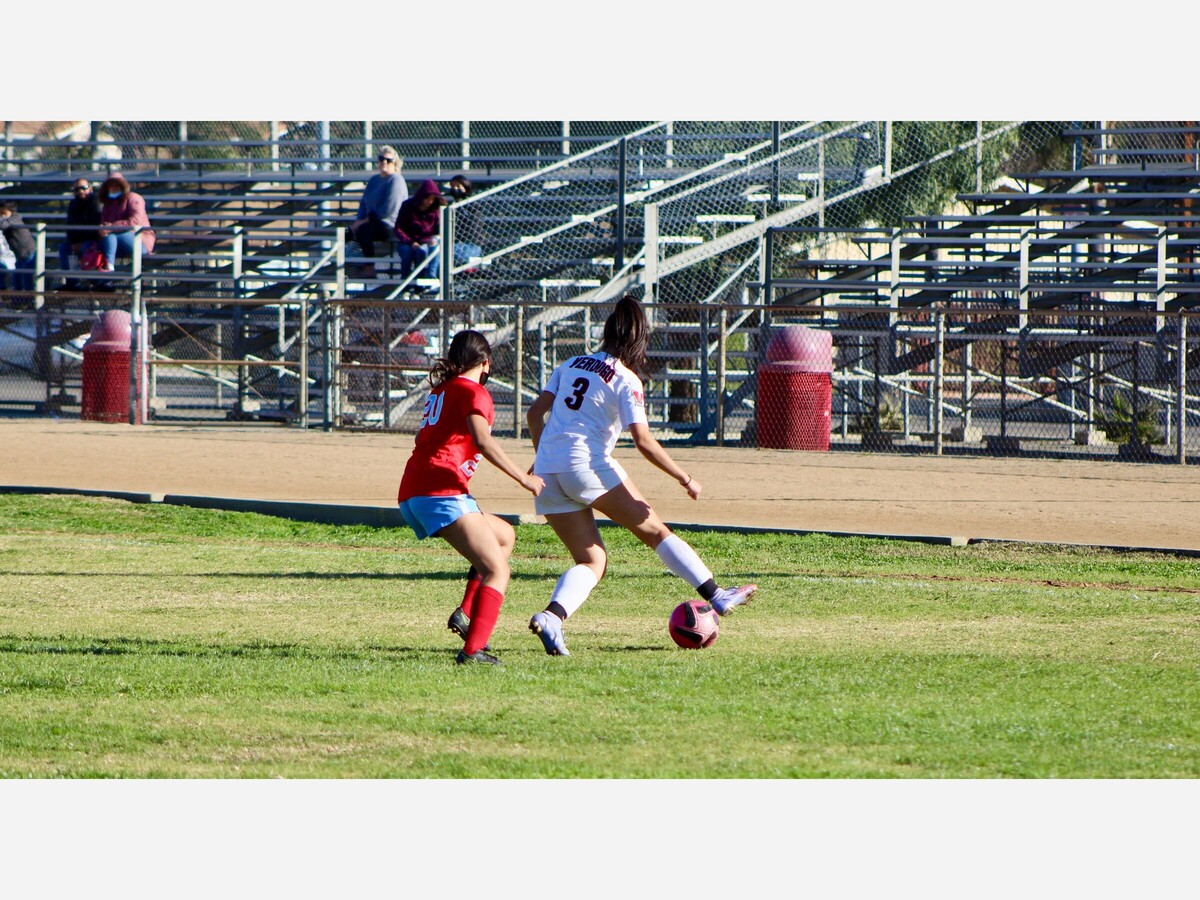 Friday afternoon the Verdugo Hills Dons took a visit to play a match against the Vikings of Monroe High School. With nearly the same weather conditions as their last match against Chavez, it was as if the wind followed the Dons to Monroe. Even though the wind was not blowing as strong, it was still affecting the ball slightly. The game plan for Verdugo Hills remained the same, keep the ball on the ground and not let the ball spend time in the air.
Even with Monroe having the advantage of the opening kickoff, they could not focus offensively at all. Verdugo forced Monroe to focus on defense, and the Dons kept up the pressure offensively. In the 8th minute of the match, Calia Peterson-Henry struck first, scoring the first goal of the match. The Dons did not stop there, as Angie Garcia Cortave scored from a corner kick in the 15th minute. Not long after she scored again, after the Dons were given a free kick in the 17th minute. Cortave took the free kick and she unleashed an amazing curling shot to make the score 3-0 in favor of Verdugo. They took this lead into halftime.
The Dons opened the second half having the kick off and they continued to stay strong offensively. Even though they did not manage to score in the second half, they did not let Monroe get a scoring opportunity either. Even when Monroe appeared to have breakaway attempts, Verdugo was quick to get the ball back and continue their offensive pressure. Monroe did not manage to break Verdugo's offense or defense, and the match ended with the score of 3-0 in favor of the Dons for their third win in a row.
Verdugo's offense is only getting sharper and sharper, and they are tweaking all of their fine edges and only getting better. The Dons took over this match, and, for nearly the entire first half, held possession of the ball. They used that possession time very well offensively, as they did not allow Monroe to get an opportunity to score. When asked to comment on how the Dons performed in this match coach Matt Nicchitta stated "I was very happy that they were able to dominate the possession time and focus everything on offense, I couldn't be happier".
Their next match will be on Wednesday, February 9. They will be playing against Monroe High School once again, but at home. This match will be a celebration as it will also be their Senior Night.