Dons Girls Basketball slow start, resulted in defeat
Image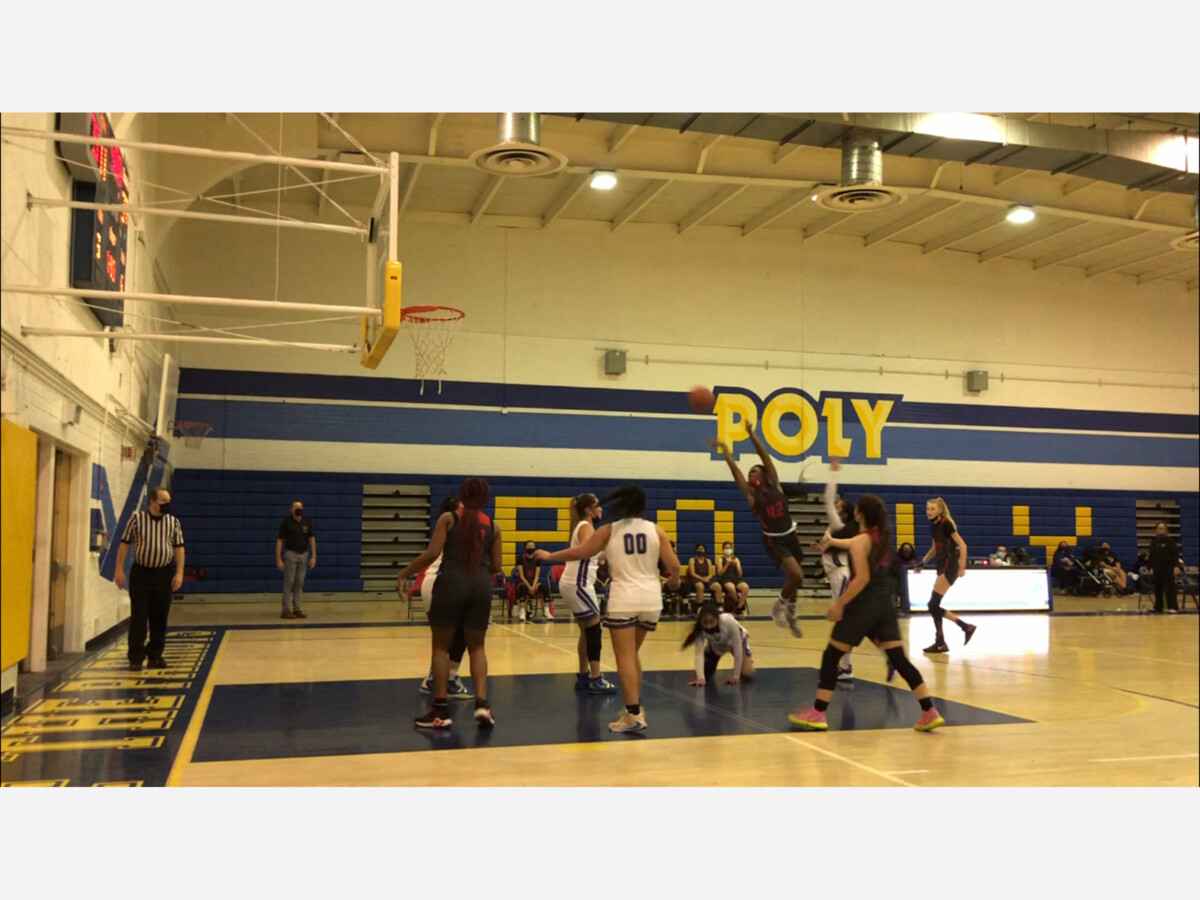 The Verdugo Hills girls' basketball team traveled to rival John Francis Polytechnic for a super rare East Valley League matchup on a weekend, and for the first time this season, in a makeup contest that was originally scheduled to be held on January 11 at The Cage in Sun Valley. This contest originally was not going to have spectators - due to a league wide decision not to have fans indoors after the most recent surge of the Omicron variant of COVID-19 . But in a change of heart a Instagram post went out around mid day from Poly on gameday stating, "Come out and cheer."
Going into the New Year, the Dons were averaging just a tick over 53 points per game, but in their last three contests against Arleta, North Hollywood and Poly only 38 points per game with the only winning result coming on Friday afternoon at North Hollywood 42-26.
The Parrots came out hungry from the opening tip, forcing the Dons to turn the ball over on their first three possessions. Ayana Peterson-Henry found Morriah Mbachu in the paint for a pretty layup to put the Dons in the scoring column at 1:23 minute mark. The Parrots scored the next five points to build a 10-2 start. Peterson-Henry was really serving it in the opening stanza finding a wide open Nicole Vanegas for a three pointer with 3:44 left and later she connected again with Vanegas this time on a fast break opportunity to end the first quarter, Poly 13-10. The Dons couldn't stop the twin duo of sophomores Hannah and Heart Lising, who were the only two players to score for the Parrots in the quarter. Coach Kevin Peterson-Henry replied, "They just came out with more intensity and they played faster and harder than we did."
The second quarter was just like the first in the fact the Dons couldn't take care of the basketball, Poly scored 16 of their 31 points in the first half coming from thirteen first-half Dons turnovers and the Dons shots were not falling as well, as they finished 7-for-28 shooting. The Lising duo allowed Poly to enjoy a 31-16 halftime score, combining for 23 points.
In the third quarter, Moriah Mosley scored a team-high eight points in the frame, which saw the Dons outscore the Parrots 18-10, and cut the lead to 34-41 to start the fourth quarter. Mosley hit her third three-pointer to open the fourth to cut the Parrot's advantage to 41-37, but from there the mighty Parrots sored over the Dons to improve to 8-4 overall in a 49-39 victory.
Morriah Mbachu spearheaded the Dons with a 13 point double-double to go along with 14 rebounds, while Mosley finished with 12 points and 8 rebounds and Nicole Vanegas chipped in 12 points as well. Mbachu has been a rebounding machine this past week with 16 against Arleta and 23 against North Hollywood. "She's just been extra solid and she has taken a step up" stated Coach Peterson-Henry on the recent play of Mbachu.
The Dons will next face the Cesar Chavez Eagles on the road this Monday and will tip-off at 4:00pm. And as of now, the Dons will be back at the Barn beginning Wednesday against Grant and Friday against these same Parrots - but due to COVID restrictions, spectators must be on a guest list issued by the players and coaches. Coach Peterson-Henry said, "It's good to play more, because we want to start getting it back to where we need to be and we have a long way to go. We got eight more league games. The ultimate goal is, we need to get the energy back, the aggressiveness. We are missing a spark, so we are just trying to get that back."