Sunday Spotlight: Armen Kovalenko "The Pizza Guy"
Image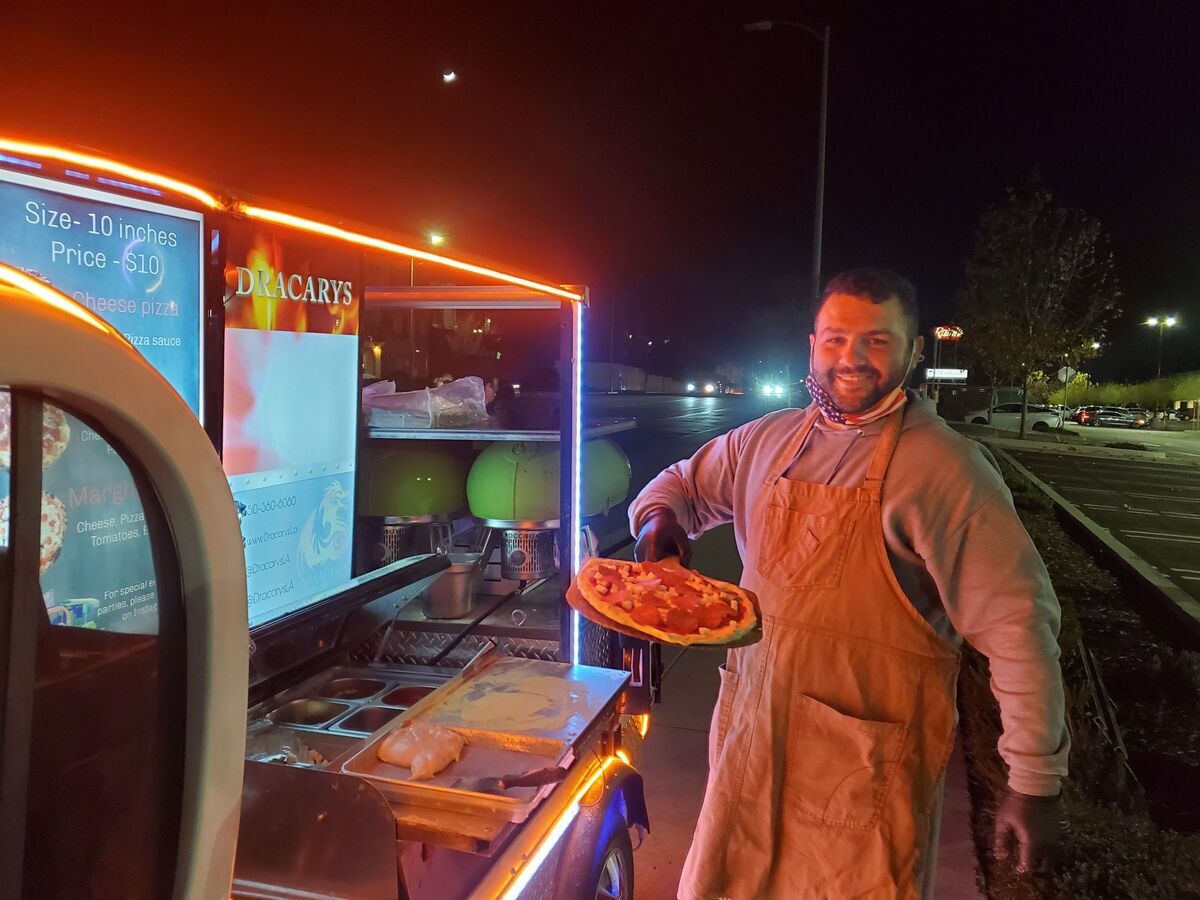 The sight has become commonplace, a brightly lit GEM vehicle parked in front of the vacant storefronts of the Ralph's shopping center with a sign that simply reads "Pizza". He has colloquially become known as "The Pizza Guy", but Armen Kovalenko's story is as wonderful as the pizza he sells, making the American Dream and a success story during a pandemic.
Armen was born in Yerevan, Armenia, and had a decent life there. He worked as a dentist, having graduated with honors, and was involved with the hugely popular sketch comedy troupe "Vitamin Club". It was while visiting the United States during a "Vitamin Club" tour, when he realized America was where he belonged. Armen entered the Green Card lottery numerous times over the next few months, hoping to gain permanent access to living in the United States.
Armen won his lottery and received his Green Card in 2014 he moved to Fresno, CA where his uncle was living at the time. He inquired about having his degree and qualifications recognized, but was told he would have to redo his school work here and that would take approximately another 10 years of schooling and cost about $500,000. He might have been willing to return to school, but the size of the debt was an astronomical figure he was not willing to consider. Armen decided he would create his own way, and all that was left was choosing which direction that would be.
He chose to pivot into food, and started as a delivery driver and chef's assistant for a pizza place in Fresno with the intention of learning the business. "The idea was, you may make a really good pizza, but you don't know anything about the business side of it. Those are two different things." Armen spent two years on the job learning the business before switching to an Armenian banquet hall to expand his food service knowledge. Simultaneously, he was also looking for a store-front to open his own restaurant. He struggled to get approval because the did not have any U.S. established credit, or any recognized assets to his name. "I wasn't taking no for an answer. I had already bought all of the equipment," Armen said, "You don't spend your money on anything extra other than your equipment and you wait for the right moment to come your way." Though he had been waiting, it proved to be worth the wait.
Armen noticed that there was a restaurant that was closing, and the space had not yet been leased to someone else. He made a point to meet with the owner, and after hearing Armen's struggle and seeing his drive and vision, the owner decided to take a chance on Armen and allow him to open his restaurant, Pizza Cycle. He was featured two separate times by the local ABC station, including one where Pizza Cycle was named among Fresno's 4 favorite restaurants for inexpensive pizza. After a successful 3 years, Armen decided it was time to move to Los Angeles, so he sold the restaurant and relocated to Sunland.
The decision was a no-brainer for him. "In Los Angeles, your life can change for the better very quickly if you're willing to embrace it." said Armen, "For me staying in Fresno was the equivalent of going to the beach for the ocean and deciding to only put my feet in the water and not go swimming. That does not make sense to me." He made the move right before the pandemic, with a vision of moving from a strictly brick and mortar restaurant to a focus on catering. "I wanted to do something different, something unique where I could stand out while still serving pizza and other appetizers like I had in my restaurant. I bought a 30-foot airstream trailer, not an aluminum one, but mirrored stainless steel." Unfortunately, Armen was going to be forced to pivot again. "We had just shot our first commercial and we were preparing to take off when COVID hit, and everything stopped. There were no parties, no gatherings, nothing to cater for at all."
As with many, the pandemic led to a difficult few months as Armen had to decide what he was going to do. After almost 2 months, Armen's wife Fenya, decided she was going to drive for Instacart to help support while they figure out the next move for the business. "I wasn't expecting her to do anything," Armen said, "but she saw this state of shock I was in and she decided that something had to be done." Upon learning that Fenya had taken initiative, Armen swelled with pride as opposed to being upset with her due to the cultural norm in Armenian culture that the man should be the sole breadwinner. Ultimately, they decided to drive together and save as much money as possible. "It's instilled in us that we don't want to work for someone else, we have to find a way to make something our own. We just needed money to make it happen."
While money was tight, Armen kept his sights set on figuring out his next step and came up with the vision for a mobile pizza station. Using apps like Offer Up and Criagslist, Armen traded various items until he was eventually able to trade for a golf cart. He added a pizza oven to the cart and got started and Dracarys Pizza was officially born. "I didn't have very high expectations for that first cart, but when you're all in you have to see it through." Armen was blown away by the positive response to his cart. He stayed true to his ideals of not spending money outside of necessities, and was able to purchase a GEM vehicle; it's the pizza car we've all come to know and love.
Armen doesn't plan on stopping there, he built a second GEM vehicle that is specifically used for catering events. He has plans to turn Dracarys into a franchise model with multiple carts and multiple locations. "I had made up my mind that I was going to work with the health department to make sure my carts are fully up to code. If I'm going to turn this into a franchise, I need a process that can be duplicated, so I started there." The process with the health department was tedious, to say the least.
Beginning with his first GEM vehicle, Armen worked closely with the health department on how he can improve his cart. With that cart remaining in full operation, Armen decided to take the modifications suggested by the health department and put them into a brand new vehicle. He took the full plans for this new cart to the department and was denied approval. "They're reasoning to me was, 'we've never seen anything like this before, so we can't approve your pizza cart.' They were afraid of something going wrong and being blamed for it, so they told me to go to the state for approval." Armen not only drove to Sacramento, he went with a sleeping bag, plenty of water, and signs to picket and protest if they refused to see him. After getting the run around and being told he was in the wrong place he told the clerk "I drove six hours, and if you're going to refuse to help me, I'm going to sleep right here. I came for answers and I'm not leaving until I get them." After this protest, a gentleman approached him and said he could help, and would give the plans directly to the director. The gentleman assured him he would pass on the urgency of the situation and asked for 2 hours to work on it.
Just as promised, Armen received his call. He described the conversation with the Retail Food Safety Specialist as cordial and friendly. "She asked me how could they not approve this, and I told her that they must be scared of you. She said 'I love this idea but there are a few small tweaks that need to be made before I can approve this.'" Armen was asked to give her 30 days and wait for her email with the design tweaks necessary. Ultimately, he was granted a variation permit, essentially granting him the exclusive rights to use his design. He also owns the patent on his design, filed this past year. "I had made up my mind that I was going to work with the health department to make sure my carts are fully up to code. If I'm going to turn this into a franchise, I need a process that can be duplicated, so I started there."
With those designs and approvals in hand, Armen has taken the first step in ultimately expanding his business. will be another piece of realizing his American Dream in addition to home ownership, and Armen said his family is in escrow on their first home. What's not to love about this story of an immigrant coming to America and building the American Dream in a few short years?
So how does the pizza taste? Clearly the community enjoys it as they keep coming out to see Armen and his mobile pizza station! During an extended visit to his cart one recent Thursday evening, the flow of customers was almost non-stop and Armen mentioned that he would most likely run out of dough and ingredients well before 10:00 pm. Come support your local business! Dracarys Pizza offers cheese, pepperoni, and margherita style pizzas and is ready to serve you. at the Ralph's Parking Lot Monday-Friday from 6:00pm to 10:00pm.