Dons Defeat Cleveland Cavaliers Wednesday Night
Image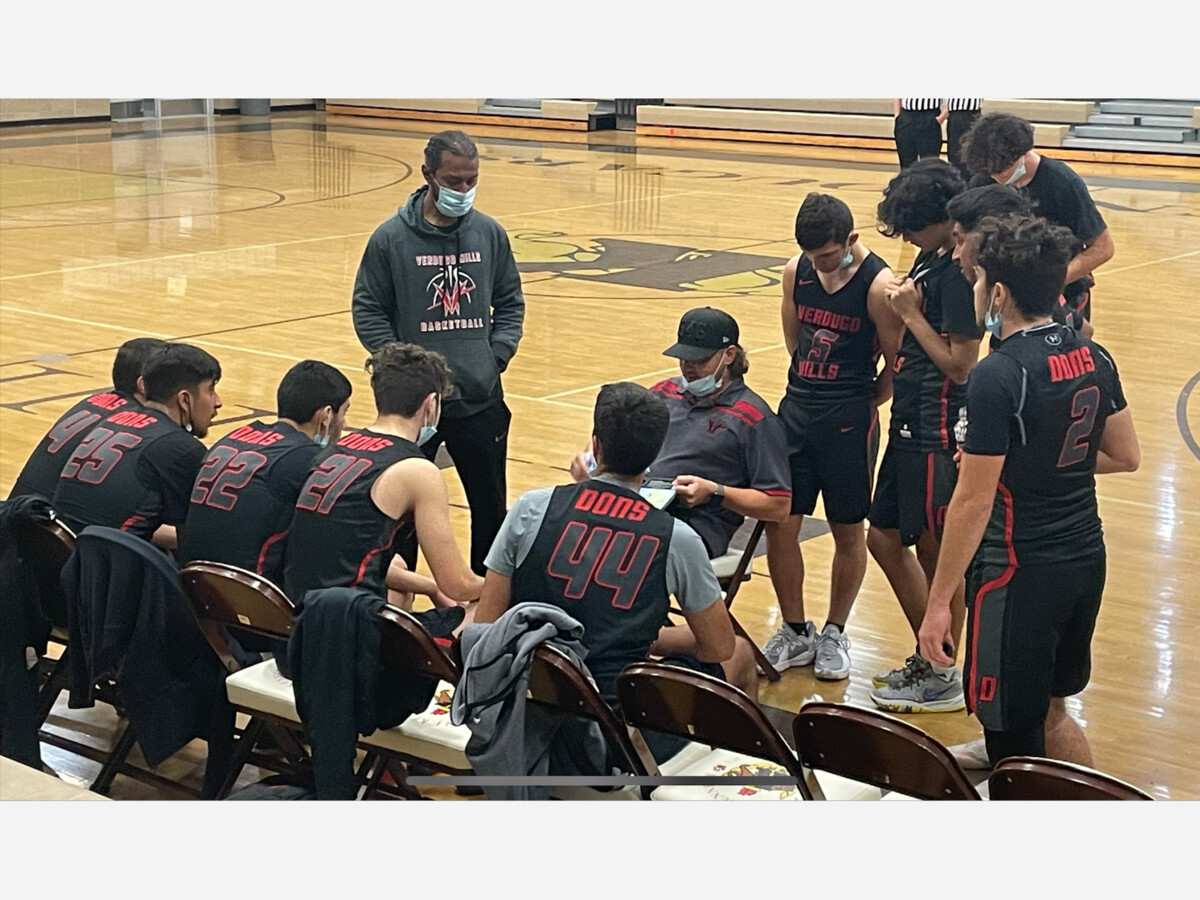 Verdugo Hills took on the Cleveland Cavaliers Wednesday evening at Kennedy High School in the 2022 Ed Baker San Fernando Valley Invitational Tournament on Wednesday night. The Dons controlled the game, never trailing, but at times played down to the undermanned Cavaliers, who had just one bench player, allowing for a closer game than expected. Verdugo HIlls ended up winning the game 62-47.
The Dons got out to a 9-3 lead early in the first quarter. But quickly, the Cavaliers brought it to 11-10, and Coach Jared Gibson called a timeout. Dons Power Forward Adrian Mirzakani hit a jumper, and Georges Abdulnour had a nice cutting drive to the basket for a lay-fin to end the quarter with Verdugo Hills up 15-10. The Dons were without Center Sonny Lopez, and while they did well on the offensive glass, they had trouble scoring their put-backs off of offensive rebounds, which would have given a much larger lead throughout the game.
David Marcos and Arlen Tomassian began to score steadily in the second quarter. Tomassian went 6-for-6 from the free-throw line, and Marcos scored 8 in the quarter. The score at halftime saw Verdugo up 34-20.
Cleveland hit five three-pointers in the third quarter, and the Dons hit three. The Dons shot solidly from the free-throw line tonight, shooting 15-for-19. The game was in the Dons favor throughout, but the Cavaliers remained within striking distance because of their prowess from beyond the arc in the second half. At the end of the third quarter, Erik Yepremyan hit a three to take the Dons into the fourth with a 49-35 lead.
The Dons closed out the game at the free-throw line, hitting 7-of-8 in the fourth quarter. Marcos finished the game with 24 points. Arlen Tomasian finished with 15. Dons Forward Georges Abdulnour tweaked his ankle towards the end of the game and did not return, a concerning sight considering the absence of Lopez.
In a post-game interview, Coach Gibson pointed out how the team "really worked yesterday in practice on executing plays, and our plays worked well today. When I said I wanted this, we got it. We didn't always make it, but we got what we were trying to do. Defensively, we're still slow on rotations, but, we won."
The Dons will be playing Thursday at 7:30 PM at Grant.