Dons Suffer Tough Loss at the Barn Against Grant Wednesday Night
Image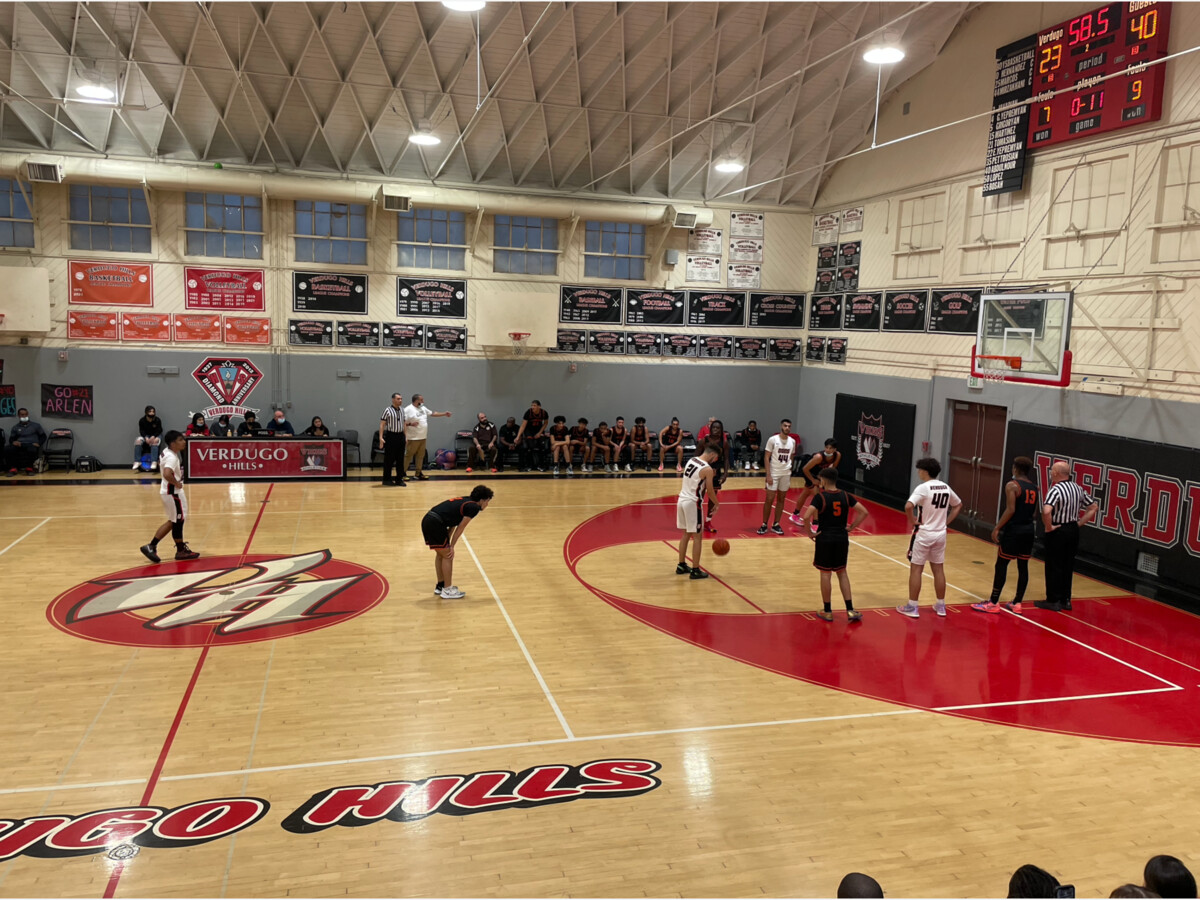 Verdugo Hills hosted the Grant Lancers Wednesday night at the "Barn." It was a physical contest throughout. The Dons started out strong but their shots stopped falling, and the Lancers out-ran Verdugo Hills. The final score was 97-54, in what turned out to be a shooting clinic by Grant, buoyed by their riotous Grant JV team acting as de facto cheerleaders in the stands.
Dons Forward Adrien Mirzakani started out the game strong, scoring five points at the beginning of the quarter. Ultimately, turnovers out of the Grant full-court press began to mount, and Lancers Jeremiah Windham began to take control of the game with steals and drives to the basket. Grant led 16-11 at the end of the first.
The second quarter started just as the first had ended, with Grant building momentum. The Dons continued to turn the ball over, leading to lay-ups in the other direction. A non-call where Arlen Tomasian seemingly was bumped going for a floater incensed Dons Coach Gibson, garnering a violation against him. The Dons looked a little flat-footed in the second quarter, as their main scorers were Marcos and Tomasian, with little production coming from the rest of the lineup. The score at halftime was 48-25.
The Lancers continued to keep their foot on the gas as the third quarter commenced, with a steal out of the press leading to a lay-up. The rest of the game progressed very similarly, with the Dons unable to make up any ground, and the Lancers continuing to shoot well and play with a high intensity. Some of the positives for Verdugo Hills were their free-throw shooting, as well as a stand-out shooting performance by Dons Guard Andre Javadian, who shot confidently, hitting three shots from downtown off the bench, and handled the ball well against the tough Lancer defense.
In the fourth quarter, Georges Abdulnour had several nice put-back lay-ups and a slew of hustle plays down low. Marcos chose his shots well but was often surrounded and double-teamed. The Lancers were strong ball handlers and pushed the ball upcourt like they were running downhill. Mirzakani added ten points in the fourth quarter, but the game was already so out of reach that it was in vain. The Lancers were vying for that three-digit scoreline, the big 100, and it left a bad taste in the mouths of the Verdugo Hills fans as the Lancers kept shooting and hitting three-pointers, playing with their foot on the gas. This may be understandable because it was the Grant bench players getting playing time, but one couldn't help but feel that the Lancers lacked some class in the final stages of their blow-out 97-54 victory. If anything, the Dons will no doubt be looking for a second crack at the Lancers come January 26th, 2022, when they face them again in the new year.