The Dons Defeat Sylmar in a Game That Came Down to the Wire
Image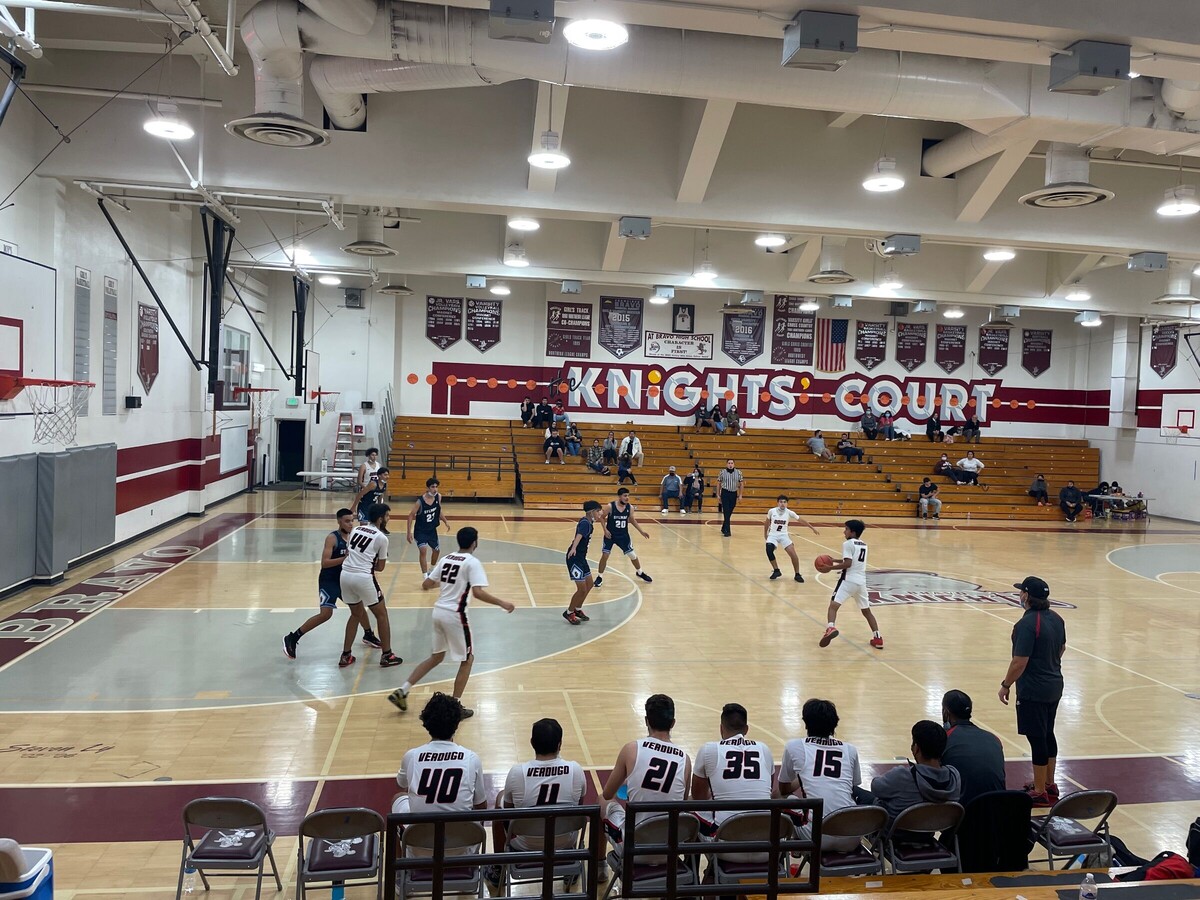 The Dons took on Sylmar High School on the second night of the Steven Ly Basketball Tournament at Francisco Bravo Medical Magnet High School on Wednesday evening. The true measure of a team is how well they can take a punch and bounce back, and the Dons faced that challenge against the Spartans. They fell into an early 15-0 deficit, falling prey to Sylmar's full court press that trapped the Dons guards, forcing them to throw errant passes. Halfway through the first quarter, Coach Gibson--not liking what he was seeing--took out all five of his starters and put in his second team, who played the remainder of the quarter impressively going on a 7-2 run. It was 17-7 going into the break.
The starters came back on to the floor for the beginning of the second quarter looking like a team possessed. In the first two minutes of the quarter, Dons' Guard Alexander Martinez hit two three pointers--both nothing but net--Power Forward Georges Abdulnour scored four points in the paint, as did the ever-alert Power Forward Adrien Mirzakani, culminating in a 14-3 run. About halfway through the quarter, coach Gibson brought in the second team, as he did in the first quarter, and they did their job, holding their own. Dons Forward David Pettrosian hit a buzzer beating put-back lay-up to go into halftime with the score even at 30-30. The first half saw two different Dons teams on the floor, Team A and Team B, each playing half of both quarters, each with their own unique skill set. The second team's identity was not quite "bench player" or "back-up" so much as it was almost, as in hockey, the second line.
The Dons came out of the halftime break with the same vigor as they did to start the second quarter, going on a 12-2 run. They forced three turnovers out of their press, led by Martinez and Forward Arlen Tomasian, who had an and-one put-back as well as a break away lay-up. Everytime a team went on a run tonight, the other team answered back. By the end of the third quarter, the game was neck-and-neck at 48-47.
The game was a nail-biter and stayed that way down to the wire. Dons' Guillermo Lopez, Alexander Martinez, and Georges Abdulnour stood out for their aggressiveness; rebounding, getting after loose balls, and promoting that kind of physical in-your-face defense that wins games. Martinez eventually fouled out late in the fourth. Verdugo Hills' mounting chemistry culminated in the victory that was not easily come-by. Interior passing is becoming one of the Dons' strong suits. With 10 seconds remaining, Arlen Tomasian sealed the victory with two clutch free throws, putting Verdugo Hills ahead 66-62. The Dons will be looking to extend this two-game win streak to three Thursday evening against Bell.