Dons Girls' Volleyball Win First State Regional Match in Team History
Image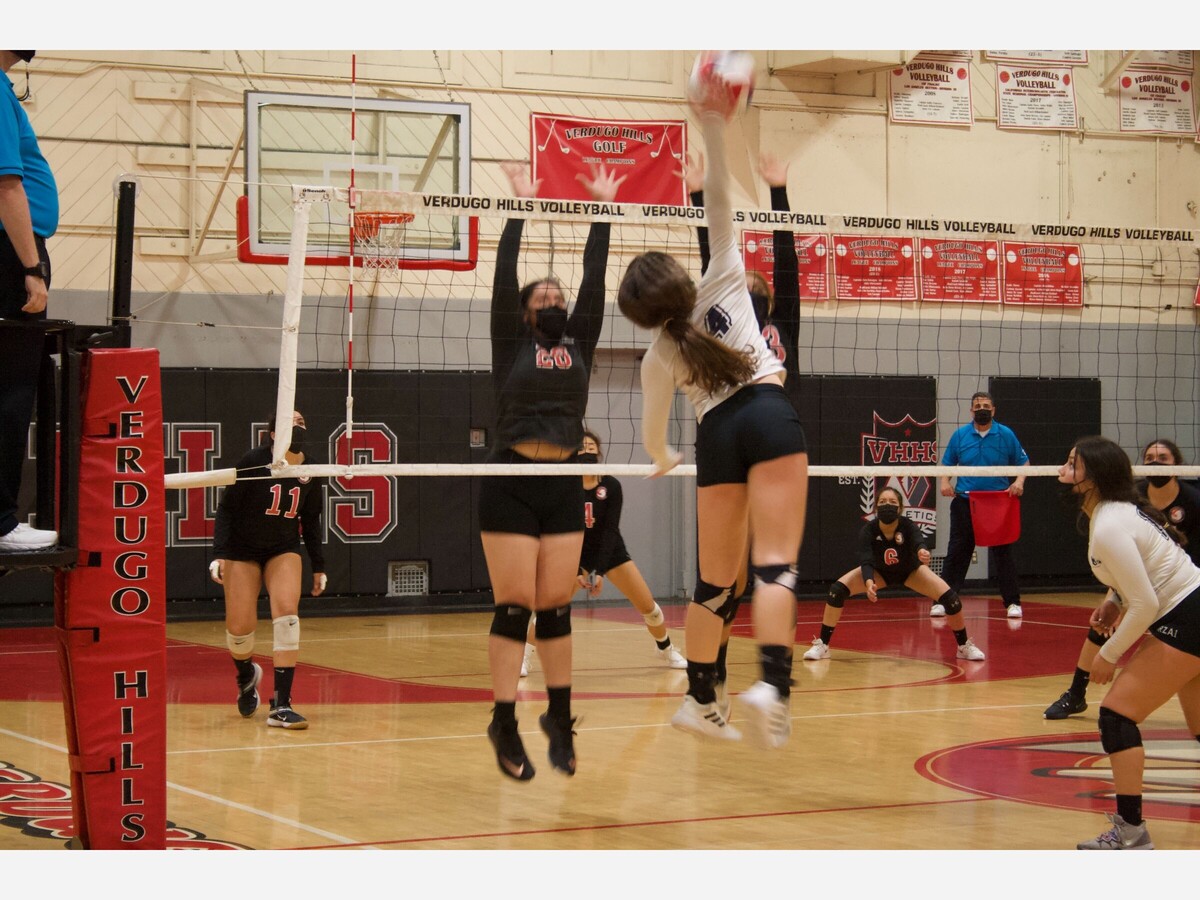 History was made on Tuesday November 9 at the legendary 'Barn' by the sixth-seeded Verdugo Hills girls' volleyball team, as they hosted the school's first-ever Southern California Regional playoff game against the Eagles of United Christian Academy from Rancho Cucamonga. UCA (21-3) came into the match fresh off of a CIF - Southern Section Division 9 finals appearance. In the past the Dons have had 'home' games, where they were the higher seed and designated home team but held the games at nearby schools due to the lower capacity of the Barn: boys' basketball hosted Fresno Hoover at John Francis Polytechnic in 2010 and girls' volleyball hosted St Monica Academy of Montrose at Cesar Chavez Learning Academies in 2015.
Junior Setter Ika Vukic helped the Dons erase a 4-6 first set deficit by serving a nine point run, to give the Dons a 14-6 lead; Verdugo Hills held on to win the first set 25-21. In the second set, the Dons opened the set up 4-0 behind senior Defensive Specialist Evelyn Oh's service ace and junior Outside Hitter Yahaira Vazquez's big block, but as has plagued them all season, the Dons let the opposition find a way to come back instead of dominating the match. "That's been the theme for us for quite awhile, really off and on all season." Coach Will Reinhart said, "So we stayed true to character. We were good enough when we had to be, but still far from our best play."
The second set seemed to turn more towards the Dons favor after a disagreement with officials led to a red card for UCA Coach Micah Langston. The Down Official counted 4 touches by the Dons, which should have ended the volley, but the main official did not see the signal and play continued. Langston made his way onto the court and needed to be restrained, resulting in his red card and subsequent ejection. The Eagles continued to battle, but Verdugo Hills took the set 25-18.
Emily Wagner, a freshman Defensive Specialist, was subbed into the third set at 23-19 and stepped up to the service line to serve in the biggest game in school history. Two points later, Reinhart collected his 47th career playoff victory, a 3-2 decision over UCA, putting him in the same category with boys' basketball coach Jared Gibson (2010) and girls' soccer coach Matt Nicchitta (2014) as coaches to lead their team to state playoff wins. Reinhart commented on the victory that, "I'm glad that 25 years into it, I finally got a state tournament win even if it's just one round, maybe we can get two - we'll see what happens."
Junior Outside Hitter Ana Vasquez collected a school state-record 9 kills to go along with 9 digs, while cousin Yahaira Vazquez finished with 7 kills and 11 assists. Evelyn Oh, Nayelly Muro and Lilly Brito added 15 digs each. Vukic posted 10 digs and 8 assists. The Dons received eight solo blocks against the Eagles: Ana, Yahaira and Marija Vukic combined for six blocks to go along with Sonia Kaczer and Jocelyn Lopez, who had one each. Reinhart reflected after the match, "We get to play another day. Until they correct those kinds of loose ends… (only) then we can be really good."
The Dons (22-6) will embark on a 103-mile journey Today to face Central Section Division 4 champion Garces Memorial Rams of Bakersfield, who despatched City Section Division 4 champion GALA (25-13, 25-8, 25-11) - behind a triple-double from junior Middle Blocker Mia D'Amato, who finished with 13 kills, 13 digs, 10 aces and 3 blocks. The second-round match will begin at 6pm.
Here's the GoFan link for Today's match at GARCES - https://gofan.co/app/events/452526?schoolId=CA7938