Dons Defeat Gladiators to Advance to Division II Quarterfinals
Image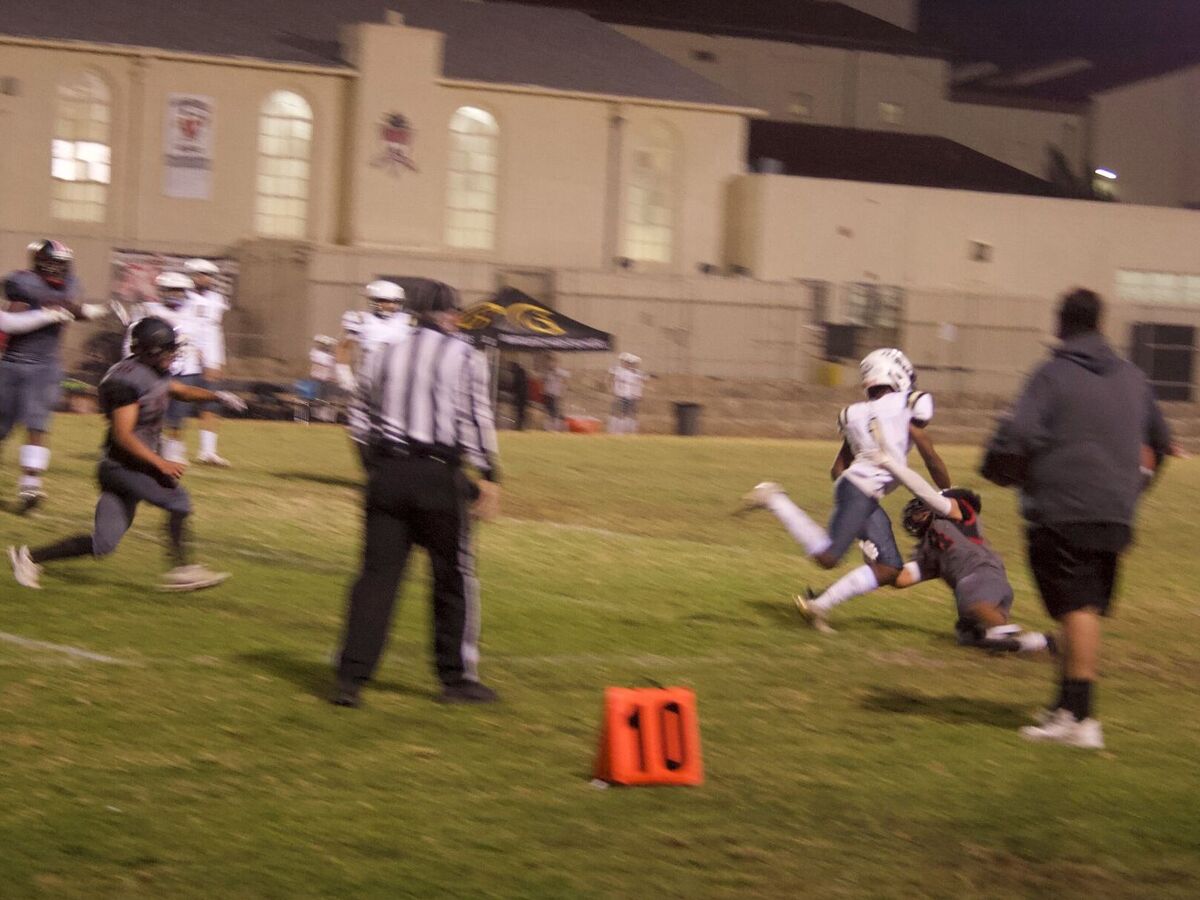 The Verdugo Hills Dons kicked off what is expected to be a strong playoff run with a strong win over the visiting Marquez Gladiators, 20-8. It was a matchup that had some worrisome trends in the first half, in which the Dons scored once in the first quarter, but had trouble putting together a consistent drive throughout the half. That was the storyline for their game against the Chavez Eagles 2 weeks ago, a game the Eagles came back to win in the final minute 8-7. This time the halftime adjustments worked as Verdugo Hills scored on their opening drive of the second half, and their defense continued to hold strong as it has all season.
On that opening drive, Senior Running Back Nicholas Cisneros nearly doubled his 15-yard rushing output from the first half as he ran the ball for 28 yards, including a 7-yard touchdown to cap the drive and give the Dons a 14-0 lead. "Kudos to (the coaches) for making the adjustments (at halftime)." Said Dons Coach Sean Jackson, "it was imperative we scored there; we had to score on that opening drive. "(Offensive Coordinator Chad Runnels) ran the offense right. He made the adjustments, it was a great adjustment to run the ball."
Cisneros put the game out of reach with 4:46 left in the 4th quarter when he punched the ball in from the 2-yard line for his second touchdown of the game. He finished with 71 yards on 20 rushing attempts and those 2 scores on offense, while he also added 4 tackles and a pass defended on defense. Senior Wide Receiver/Linebacker Luke Waters caught 5 of 9 targets for 49 yards and one touchdown, the first score of the game, a 2-yard reception. Waters also added 8 tackles, one pass defended, and a tackle for loss on the defensive side of the ball. Senior Linebacker Ivan Payawal showed why he's one of the captains on the team as he contributed 7 tackles and 2 of which went for a loss.
Next up for the Dons is a trip to Hamilton High School, home of the Yankees. "Our defense is the staple (of the team)" Jackson said, looking forward to what should be an afternoon matchup next Friday, November 12. "Our front 7, front 8, depending on our look, is strong, but our secondary needs to be more disciplined and we need discipline to advance." As the Dons look to advance further in these playoffs, the matchups will only become more challenging, a fact that's not lost on Jackson or the coaching staff, "It only gets tougher as we go on and I would have it no other way."