Dons Volleyball fight to the end
Image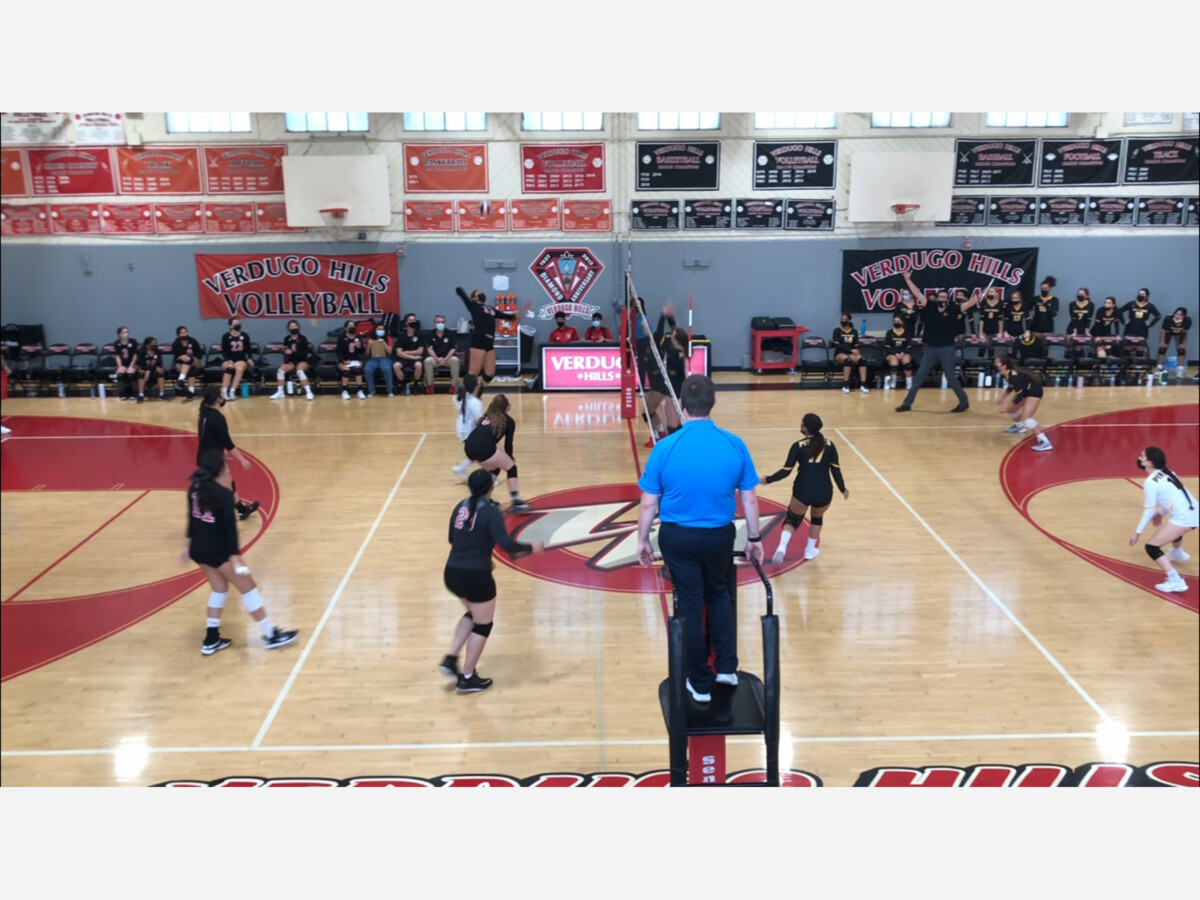 In front of their packed gym, nostalgically called the 'Barn', the #1 seeded Verdugo Hills girls' volleyball team - despite not having a few key players due to the recently issued LAUSD vaccine mandates - faced off against the 4th seed San Pedro Pirates in the Los Angeles City Section Division I semifinals. The Dons fought until the end, but ultimately fell to the Pirates 3-2, snapping a 24 match playoff winning streak in games played at the Barn dating back to 2010.
From the outset, San Pedro (16-10) converted six of its eight's serves to open the match ahead 14-8, but late in the first set junior Right Side Adrianne Leasiolagi had a nice block to start the Dons comeback before senior Defensive Specialist Evelyn Oh found a hole in the Pirates service defense for an ace to cut the lead to 20-23. Juniors Pirate Middle Hitter Jaime Roth and Outside Hitter Elaine Turituri were a night-mare to defend all match long.
Dons senior captain and Outside Hitter Jocelyn Lopez and junior Outside Hitter Ana Vasquez combined for 9 their total 20 total kills in the second set. Senior Middle Hitter Lilly Brito had two big blocks in both the second and third sets to help the Dons reach a 2-1 advantage, taking the sets 25-20, 25-16.
The Dons and Pirates traded points resulting in nine ties in the fourth set, but Roth and company dominated the set with multiple winners. The Pirates went up for good at 13-12 thanks to a kill from senior Outside Hitter Alyssa Ortiz and won the set, 25-21.
With the game tied at 2 sets apiece, the Dons opened the fifth and final set with a 7-3 run leading to a San Pedro timeout. The Pirates responded and surged to a 10-7 lead before the Dons battled back to take the lead at 13-12. Roth scored the dagger with a kill to give San Pedro the win at 13-15. Dons coach Will Reinhart reflected on the match, "Of course, Losing always sucks especially like that so it's a tough one. It wasn't our best day - we fought but we made a lot of errors, we really didn't play anywhere close to our potential."
On the scoresheet the Dons were led by Ana Vasquez, who finished with a double-double registering 10 kills and 20 digs - while her cousin, Sophomore Yahaira Vazquez chipped in with 15 assists, four aces and three kills. Senior Defensive Specialist Nayelly Muro collected 13 digs for the Dons (21-6), who finished a game away from going to Birmingham Charter High School, the site of the City Finals and trying for the school's first girls' Division I championship.