Chavez Eagles Drop Dons in Final Minute
Image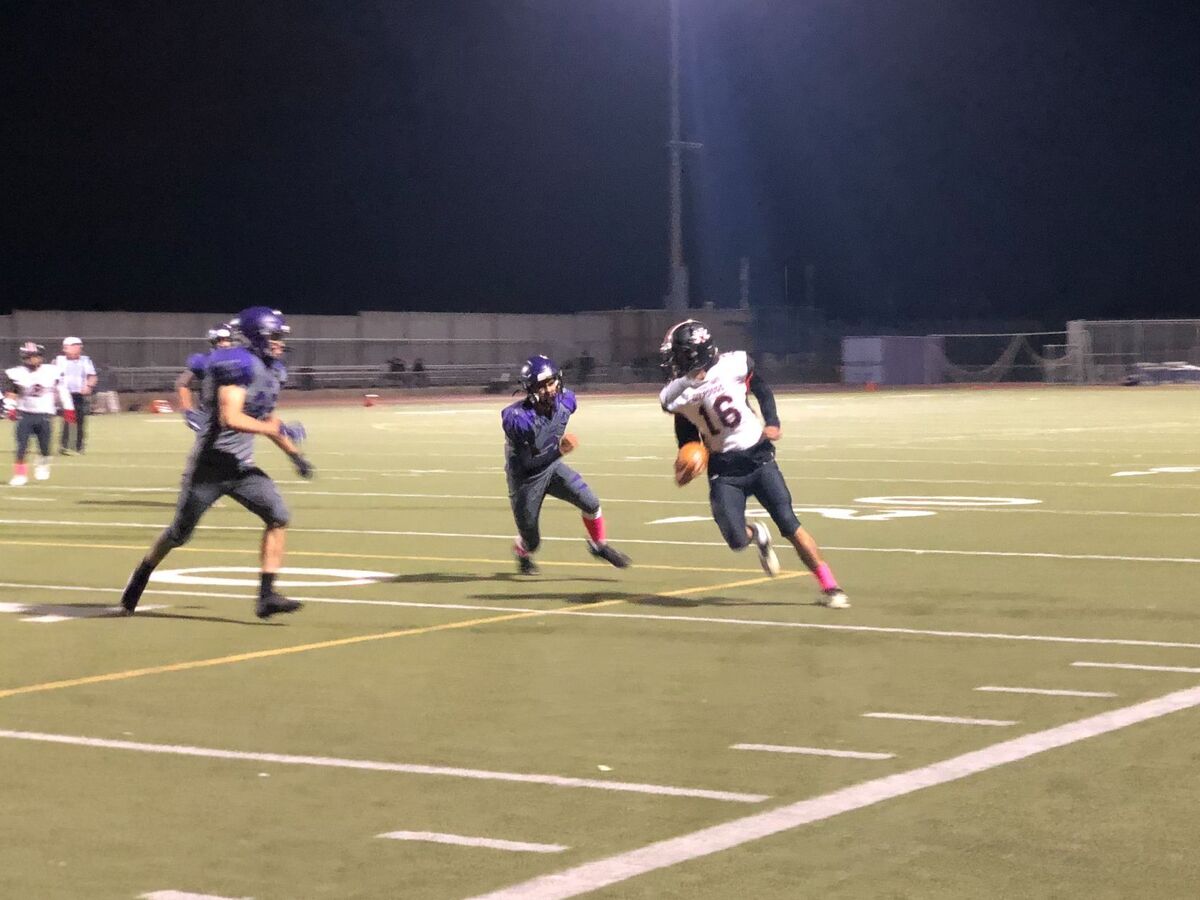 There are special nights on every high school sports calendar, chief among them being senior night and, during football season, Homecoming. The Verdugo Hills Dons visited the Chavez Learning Academy Eagles, as the Eagles hosted their senior night, and what followed was a nail-biting four quarters of football that wasn't decided until the final second ticked off the clock with an 8-7 victory for the Eagles.
Chavez was able to run the ball for most of the game, but was plagued by turnovers when they might have put together scoring drives. "We knew we would have trouble holding onto the ball," Eagles Coach Rodrigo Nunez said, "We lost some contributors to eligibility this week, but (the team) stepped up." Ultimately, Kevin Barrientos scored a 5-yard touchdown with 53 seconds left and he ran in the 2-point conversion to give the Eagles the lead. An unsportsmanlike conduct penalty after the conversion gave the Dons great field position with enough time to get into scoring range to win the game. Verdugo lined up for what would have been a 54-yard field goal with 3.6 seconds on the clock and ran a play down their sideline. Kicker Alex Shahnazarian made it inside the 10-yard line before he was finally tackled, ending the game. "We were off all game," Dons head coach Sean Jackson said of the offense, "We couldn't get it going. We dropped balls and couldn't convert some key 3rd downs."
The Dons opening possession might have been a false sign of what was to come as, on their second play from scrimmage, Quarterback Dane Iversen found Wide Receiver Ben Emery in the flat and Emery went 61 yards for the score. On the very next Eagles possession, Running Back/Linebacker Nick Cisneros intercepted a pass attempt from Isiah Abrams, giving the Dons possession inside the 20-yard line. What followed was a possession that was symbolic of both teams for the rest of the game. Verdugo drove inside the 5-yard line, but were pushed back and then had their 27-yard field goal attempt blocked.
The Dons defense did its job throughout the game, standing tall when it appeared the Eagles were threatening to score. They finished with 4 turnovers, 2 interceptions and 2 fumble recoveries. Linebacker Jacob Vides recovered both fumbles, causing one of them himself, and added 7 tackles.  Cisneros added 6 tackles to his interception. "Our Defense did what they do all season, bend but don't break.," Jackson said, "We gotta help the D out on offense. If you don't do that, you get this."
The Dons return home to host the North Hollywood Huskies for their senior night and Homecoming game in what will be the final league game of the season on Friday October 29 at 7pm.